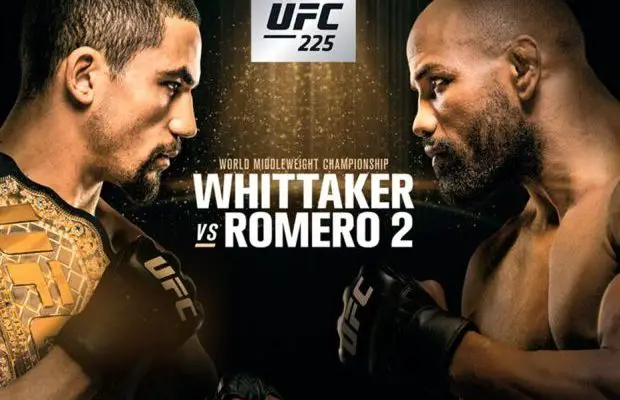 Headlined by two title fights UFC 225 looks to be a promising card. With both the 185 strap and 170 interim belt up for grabs and an outspoken Colby Covington to add to the hype, the first big fighting event of the summer looks to be in good shape. While everyone wants to see Dos Anjos shut Covington's mouth, I believe that the Romero/Whittaker fight is the one to watch. Having fought almost a year ago at UFC 213, the two middleweights look to run back a hard-fought, five-round war which saw Whittaker become the interim middleweight champ. What astonished many with Whittaker's performance is that he was consistently stuffing Romero's takedowns with a blown out knee. Considering Romero is an Olympic silver medalist this is quite the accomplishment. During an exchange at the beginning of the first round, Romero threw an oblique kick at Whittaker's left knee. Commentator Joe Rogan noticed the slight hitch in Whittaker's movement during the fight and the suspicion was confirmed later on by Whittaker himself. Due to this injury, Whittaker was sidelined for almost six months. While he was in rehab, Micheal Bisping lost the Middleweight belt to GSP. When GSP vacated the 185 strap Whittaker was announced as the undisputed 185-pound champ. A title fight was then scheduled between Whittaker and Rockhold for UFC 221. Unfortunately, his knee acted up again and Romero was put in as a replacement. The bout was switched from fighting for the title to fighting for the interim belt, but Romero missed weight. If Romero won the fight he wouldn't be allowed to receive the belt. Romero knocked Rockhold out with a vicious overhand and one uppercut as Rockhold was leaning against the cage. This set up the inevitable second match between two warriors.
To start with Whittakers strengths lets talk about his striking. He uses a lot of in and out movement to go along with crisp technique. He has a wide variety of kicks and in his last fight with Romero, he really showed the many uses of a push kick and how effective it can be. He picks his shots very carefully and can gauge the distance between him and his opponent extremely well which allows his striking to be accurate. When he rocks an opponent like in the Brunson fight, he doesn't wildly start throwing shots. Rather he bides his time and only throws when he feels like it will connect. Also, he tends to throw a head kick in this situation to knock his opponent down and finish them with ground and pound. While his ground game hasn't been tested, he does have a brown belt in Ju-Jit-Su. His takedown defense is superb being tested against Souza and Romero with neither fighter having much success. This has allowed him to keep the fight standing and best utilize his strength which, for the time being, is striking. Let's move on to Romero.
It is a known fact that wrestlers have become some of the best MMA fighters ever. With their gritty work ethic and ability to learn new skills and technique they prove to be resourceful while entering a new sport. A prime example of this is Yoel Romero. He is an Olympic silver medalist from Cuba holding a professional record of 13 and 2. His explosiveness is unmatched in the division and his knockout power can come from any part of his body. Known for flying knees and a rocket like overhand he has 11 knockouts to his name, with seven coming in the UFC. He lulls his opponent to sleep with a sort of side to side movement. He then explodes forward at different times in the fight with only the intention of a knockout. While his opponent fears his striking, they also have to worry about his ability to take them down any time he wants. His only weakness is that he tends to tire out because of the amount of muscle he has on his body and the fact he is 41 years old (which hasn't seemed to have much effect on his athleticism yet).
This is a rematch for the ages with both fighters having their strengths and weaknesses. I believe that the big factors of this fight are:
Whittaker has to stop the takedown. If he can do this and keep the fight standing he can work in his striking and use of distance to avoid Romero's explosiveness.
Romero has to pace himself and not tire out early on in the fight. He has a better chance of knocking Whittaker out in the first and second rounds and should try his best to avoid going into the fourth and fifth rounds.
With this said may the best man win.